This questionnaire - the Online Chakra Vibrator - helps you to re-member the relationship between the 7+1 chakra levels. The outcome indicates your preference to vibrate on certain chakra levels, showing you a comparison between the 7+1 levels. The online Chakra Vibrator might give you an impression of your evolutionary path or spiritual development if you are interested to know.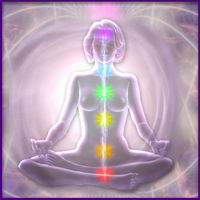 The online Chakra vibrator acts - like other Potential Analysis Tools in this cybercity - as a mirror and a source of inspiration and will guide you in a playful manner to a global understanding of the chakra levels. You obtain a score between 0 and 100 for each chakra level, 50 being the mean score.
After filling out the 16 multiple choice questions, you press on "create my chakra profile", and the online Chakra Vibrator will create your personalized Chakra levels profile.
Choose the term that most matches you by assigning a "+" to the left column. Choose the least matching option by assigning a "-" to the right column. You are not allowed to assign a "+" as well as a "-" to the same option.