Signals indicating the arrival of the new world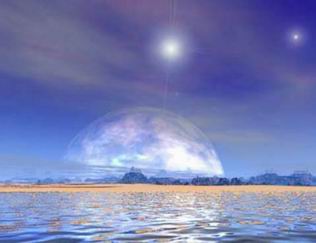 We all know in our heart that there is more than the world we can see with our eyes. Some people are already well prepared for the new world in the fourth dimension, but most of us have just become aware of our spiritual vastness. This is why we show some evident signals indicating the worldwide changes - verifiable by every individual - that have occurred the past 20 years.

Since the 1980's planet earth together with mankind - our cosmic mother with her children - , being part of this solar system connected to the Sirius' stellar system, is heading to a life expression on a higher vibrational level or frequency. The first step of the process of transformation should be completed around the year 2012. For mankind - that's us - this implies a significant rise in consciousness, from duality consciousness (the known world vibrating in 3D) to unity consciousness (the new world vibrating in 4D). In simple terms, in fact we are all brothers and sisters, not from a genetical viewpunt but from the viewpoint of the soul, but we have forgotten.
What kind of clear indications did we see here om earth, let's say, the past 20 years?
The arrival of the hi-tech medium Internet: Internet is the largest homelibrary in the world, everyone having an Internet connection can consult interesting literature from home, play games, stimulate his second chakra, book a flight, buy books and CD's, do e-commerce, show the world his/her visions of a better world, trade, etc. Thanks to the Internet the distances have almost disappeared and people from the world can easily communicate to one another. This virtual cyber world vibrates in the fourth dimension (4D). Examples of cyberlands that were set up by self-aware teams:
One large search engine on the Internet, set up by a creative navigation team with a vision, available in all languages you could possibly dream of:
An genious Finnish inventor creates a new operating system, ready for use in the new world: Linux
An open source library on the Internet, which gives valuable information for free: http://www.wikipedia.com.
Crop Circles. Get an impression of the great variety of Corp Circles.
An increasing number of people has extraordinary experiences in a very natural way, such as out of body experiences, astral voyages and channeling, contact with intelligents beings (our cosmic brothers & sisters) from other dimensions.
Indigo children with high IQ's and special gifts of life, like a strong intuition and clarividence. More info on: http://www.indigochild.com
Films and series seen on TV or in the cinema, teaching us so much about who we really are: Signs, The others, K-pax, AI (Artificial Intelligence), Star Trek.
Books: a large variety of information about spirituality, healing, mysticism and the new world is available in every book store. See our sources of inspiration.